Estate Planning Attorney in Stanford, Kentucky
Hire Us to Help You Draft Your Will or Designate a Power of Attorney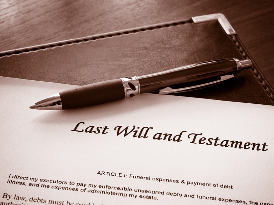 My goal is to provide clients with more than "cookie-cutter" estate plan documents. I want to be available to provide advice when your family needs it, both during your life and after. What you can expect when you design an estate plan with me is a detailed review of your planning goals, financial circumstances and dynamics, professional recommendations on the best type of plan for you, and helpful advice when you have questions about your plan.
At my office in Stanford, Kentucky, we can help you create a will, a trust, or a complete "Family Future Plan." When you contact us, we'll send you an intake form so you can be ready for your estate planning appointment. We can also help you:
Appoint guardians for minor children and decide how you would like them to be cared for in the event of your death or incapacity

Understand the probate process, and what happens if you don't have a will or trust

Arrange for distribution of your possessions and cash to those you choose

Protect assets that you leave to family and friends from creditors

Decide how you want to be provided for in the event of your own disability or incapacity
You'll experience peace of mind once you've created your estate plan in Stanford, Kentucky. Call 606-365-1178 now to start the process.
Get Help Drafting Your Living Will and Other Important Documents
Drafting a living will and power of attorney documents in Stanford, Kentucky will benefit you should you ever become unable to manage your own affairs due to mental or physical limitations. Than Cutler, Attorney at Law will help outline your wishes plainly, so that stress and conflict between your loved ones is minimized. Contact us today to learn how to designate a power of attorney in Stanford, Kentucky and the surrounding area.